In March 2020 international reporting and analysis platform PRovoke Media (previously known as Holmes Report) performed research of PR market. About 400 agencies, more than 100 PR specialists from client companies took part in the survey and told about the impact of COVID-19 epidemic on their work. Results of the study showed that 77% of PR agencies have already felt the consequences of the economic crisis induced by a coronavirus.
MAINSTREAM PR agency also participated in the survey. Below you may find key findings of the research.
Losses are inevitable
How PR agencies answered to the main question "How COVID-19 is going to influence your business?": 77% are sure that losses are inevitable, 62% will stop hiring, 37% will cut salaries, 27% are going to cut staff. On the other hand, 6% of companies won't face significant changes, and 15% of agencies are going to start working even more.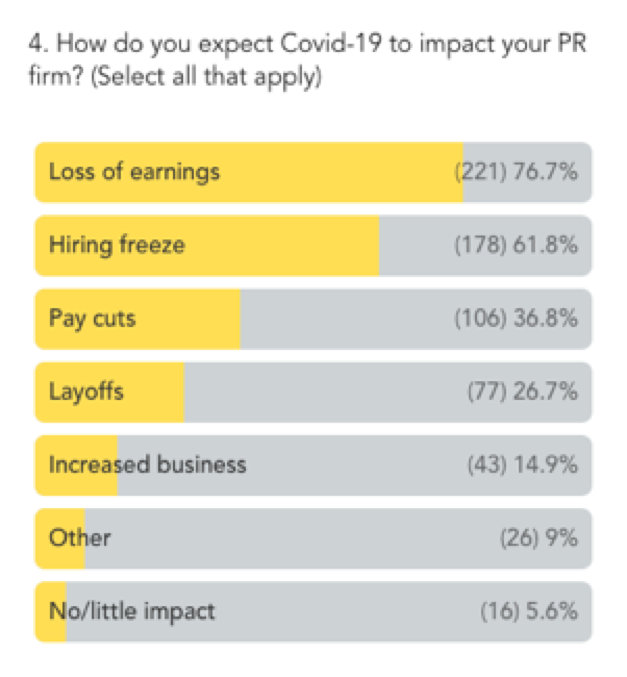 Project work to suffer first: 87% of surveyed agencies reported having cancelled or temporarily suspended projects. Less than half of respondents (44%) experience lower retainer payments, and only 32% of agencies have faced the problem of late payments. It is great to know that 35% of lucky agencies now have even more work to do.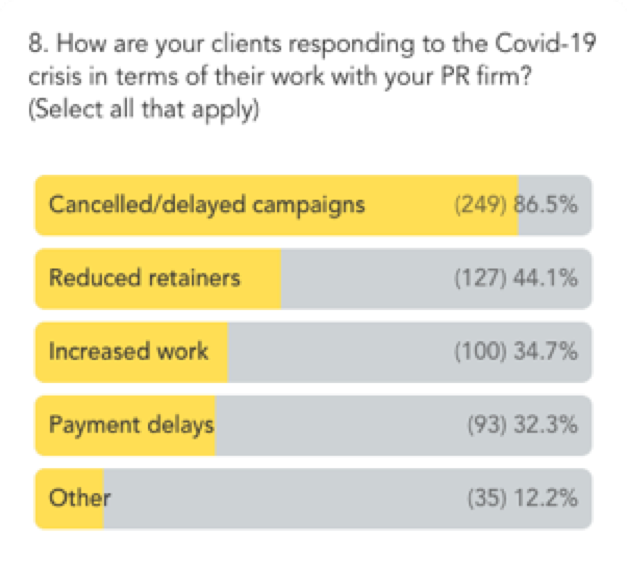 Quantity vs. quality
About 50% of the surveyed clients claimed that they did not plan to reduce the volume of ordered services, and 12% intended even to increase.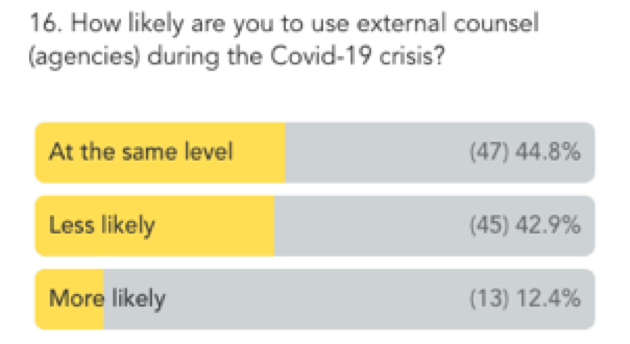 But the nature of demanded PR services will change significantly. According to representatives of agencies, now, amid the crisis, companies often ask for consultations on crisis communications (82%), corporate PR (72%) and internal decisions regarding employees' engagement (51%).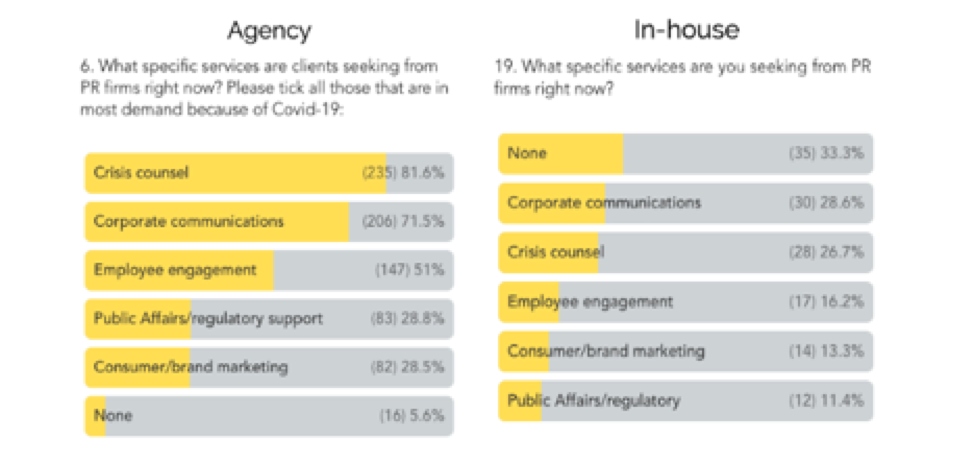 At the same time, clients named the crisis and corporate communications among the most popular PR services. However, one-third of companies decided to refrain from cooperation with agencies during the crisis.
78% of the interviewed agencies confirmed that the most significant budget cuttings have been made in PR communications in retail and brand marketing. But 53% of clients indicated that they didn't intend to cut the amount of PR services.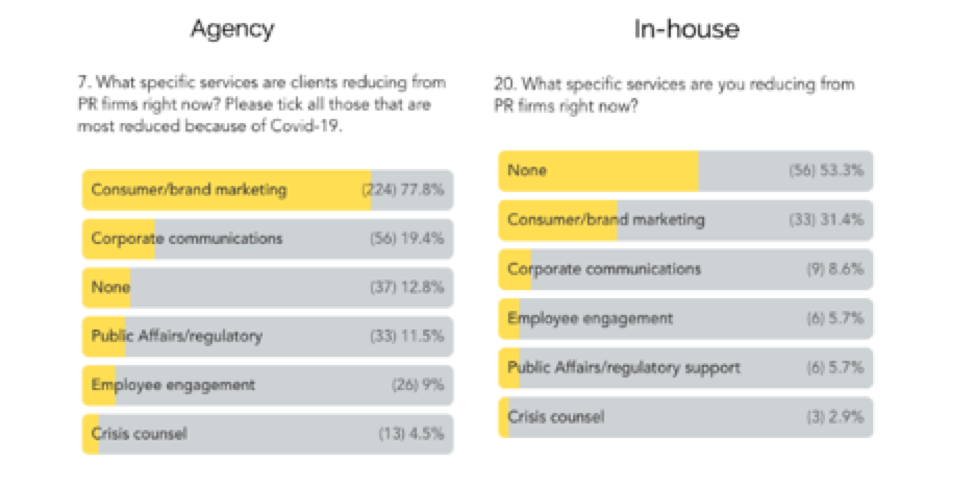 Employees became the main stakeholder
Curiously, COVID-19 has helped many companies to identify what really matters to them. More than half of the companies acknowledged that ordinary employees, rather than top management, had become a priority group of stakeholders. They are almost as twice as important as clients, leaving management, media and authorities at the rear of priorities. It turns out that it mostly depends on the rank and file how business copes with this crisis and how it will change afterwards.
The main challenges the business has faced in one way or another are connected to employees: how to organize work remotely (58%), how to provide safe transport for those who cannot work remotely (41%), how to help people maintain not only physical but also mental health (41%). All these problems suddenly started pouring on businesses, which felt pretty confident about being well prepared for crises, perfectly digitized and clearly seeing its future in 5 years.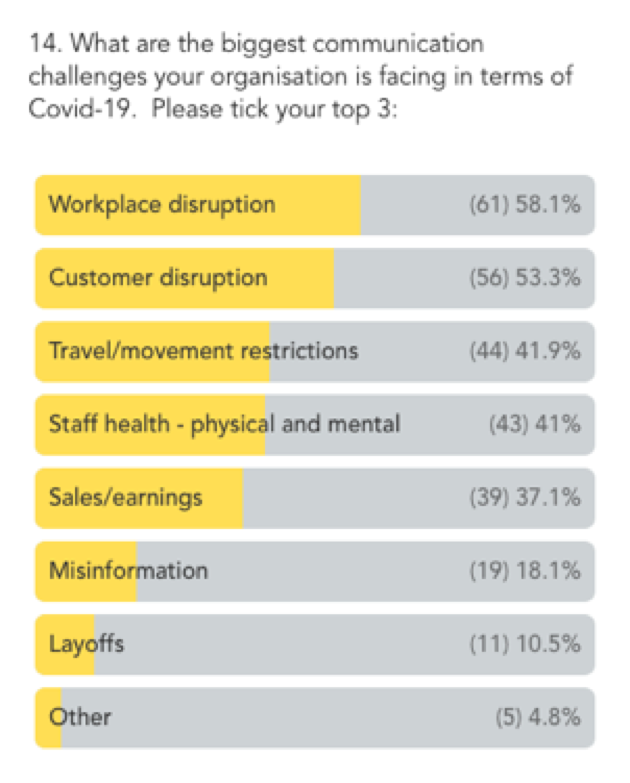 What we've already learned and continue learning from this crisis
1. Agencies that have long-term customers on retainer basis will survive. Project work will most likely be frozen.
2. The full cycle will survive. With clients' fees, it will help to cover the temporary losses of event and media departments, and thus avoid staff cuttings. Hard times wait for niche agencies.
3. Agencies need to diversify services and products by economy sectors, explore new directions and continuously change.
4. COVID-19 reminded client companies about their real values. Internal communications (i.e. their employees) are more important than external ones (i.e. customers).
5. Surprisingly, journalists, authorities and management didn't get the twentieth share among the priority groups of influence. While almost all communication strategies bring these stakeholders to the forefront.
6. Judging by the fact that crisis communications are at the top of the most demanded services, many companies were not ready for such a crisis in terms of communications, although they claim otherwise. It means that it is necessary to run trials of all possible and impossible crises and options of response more often and before the crisis strikes.
And the good news: both clients and agencies agree that the key to successful communications during COVID-19 is timely response. In other words, avoiding delays in getting approvals and delivering messages on time. In fact, it is always important, but it is good that COVID-19 helped to understand it faster.
Full article about the results of PR marketing research you can find on PRovoke Media website.