On November 16, 2019, within the framework of the Second International Congress "Rational Use of Antibiotics in the Modern World of Antibiotic Resistance Stop!" in Kyiv there was held the Round Table " Antibiotic Resistance and Microbiome: What Will Happen if Bacterial Infections Become Incurable". The MAINSTREAM agency has organized the round table for the Institute of Microbiotics BIOCODEX, the first international platform of data on the human microbiome.
The event aimed to inform the public that irrational usage of antibiotics will lead to epidemics, as pathogenic bacteria cease to react to antibiotics, and people will have no treatment.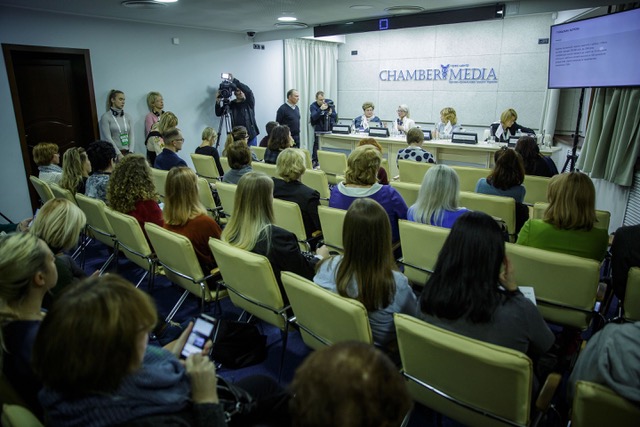 Outstanding experts in the field of gastroenterology, pediatrics, pharmaceutics took part in the discussion, namely: Natalia Kharchenko, Head of the Gastroenterology, Dietology and Endoscopy Chair of the P.L. Shupyk National Medical Academy of Postgraduate Education, Maryna Mamenko, Dean of the Pediatrics Faculty of the P.L. Shupyk National Medical Academy of Postgraduate Education, Anna Zaichenko, Head of the Pharmacology Department at Bogomolets National Medical University, and Ivana Galuskova-Butter, the Member of the Administrative Board of the World Alliance Against Antibiotics (WAAAR). The latter stated that "by 2050, antibiotic-resistant superbug will result in the death of 10 million people a year worldwide. Also, Ourelie Lecuer from France, Biocodex Microbiota Institute's International Director of Medical Affairs, joined the Round Table via Skype and underlined the importance of the role of probiotics in the restoration of human microflora.
More than 40 representatives of the media, bloggers, nutritionists and medical workers attended the Round Table. In addition to general information about the event, all the participants also received a list of recommendations on practical steps that each person can take today to avoid epidemics in the future.